But the university, which opened Kambri with a free concert, has promised to put live music back at the heart of campus life.
«We will hopefully regain our reputation for being Canberra's home of live music,» vice-chancellor Brian Schmidt said.
On a tree-lined promenade connected to the city by a new avenue, a busy hub of shops, student housing and learning spaces will transform by night into an entertainment district, he said.
New bar Badger & Co will host live acts when it opens later in the week, there's an «ambush gallery» bar showing pop-up exhibitions above bookstore Harry Hartog as well as a huge new theatre, cinema and concert venue for bigger sets.
Fifty gigs were already booked for the coming year, ANU project director Robert Hitchcock said.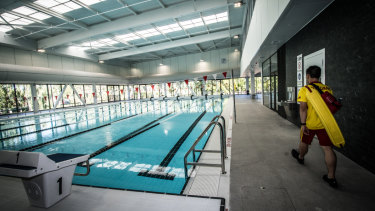 «We're actually gotten a venue manager in to run this space separate from the university, this is about the ANU investing in the city, inviting it in.»
The ANU Union is again running a pub, this time housed in the ANU Commons building and surrounding courtyard, but, due to noise restrictions near residential apartments, it is heavily sound-proofed and limited to acoustic acts.
Overhead, five sustainably-designed buildings house students, health services and adaptable learning studios. With skeletons of mostly timber rather than steel («the wi-fi works better»), they are each named after an influential woman from the university's past.
Running alongside Chifley Library is a new «Melbourne style» laneway offering outdoor dining and a fresh food market.
The ground floor of the library will also be getting a face-lift in the coming months, Mr Hitchcock said, after a freak storm in 2018 flooded the nearby Sullivan's Creek and devastated some of the university's book collections. 
The precinct was gifted its name, meaning «meeting place», by the traditional custodians of the land, the Ngunnawal people, who worked closely with the university on its design.
A ground map tells the story of Canberra and how its first people moved around the land.
Ngunnawal man Wally Bell said it had taken a long time for an institution to show such recognition of their history when designing a new development but he was proud to have been a part of it, alongside Matilda House and Carl Brown, who unexpectedly died last week.
«He should have been here to see it,» he said.
Professor Schmidt said the ANU welcomed its «extended Canberra family» to stroll over University Avenue into Kambri for a coffee, a shop or even a lecture.
While he had been lucky enough to walk the great campuses of the world, Professor Schmidt said the ANU was setting its own standard in Kambri.
Loading
«Not the ivy-covered halls of Harvard or the beautiful 12th century stonework of Oxford but rather in Kambri we have a contemporary community space that takes its place amongst the finest in the world,» he said.
«It is truly us.»
University chancellor Gareth Evans described the five-year project as the university's most ambitious yet in its seven decades in the capital. It had been financed after the ANU attracted external investment in its student accommodation, he said.
Taking in the busy precinct on Monday, Dr Garrett said he was excited to see something new take shape on the place where he had first fallen in love with performing.
«But I think we'll have to dirty up this venue a little bit.»
Sherryn Groch is a reporter for The Canberra Times, with a special interest in education and social affairs