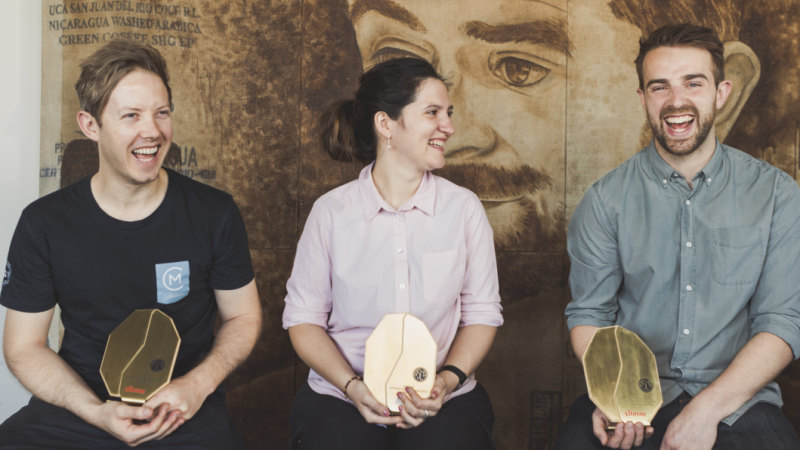 Lewin and Ferreyra will now travel to the World Coffee Championships in Boston in April to represent Australia. Sestic won the World Championship in 2015.
"It's been a bit of a weird time here lately," says Kelly. "We've had all these super high end people spending crazy amounts of time in the same building preparing to compete against each other.
"There was this underlying tension of sorts, but we're all mates and we all wanted each other to do well but beat each other at the same time."
Lewin's finals presentation focused on coffees from the Santa Barbara region of Honduras and exploring ways in which specialty coffee can be shared with the general consumer, to bring them into the "specialty bubble".
"We're trying to simplify it, we're not trying to be elitist, we're trying to bridge that gap," Lewin says.
"It's like when you go to a wine bar and you have all these different options, we foresee that we would love to share coffee like that.
"Someone might go I like champagne and have someone take them through different styles, an experience where you can get walked through different coffees without having to know a lot about it."
Ferreyra spoke about her experience as a green bean buyer and how experimentation in processing can be a risky, yet successful venture for producers.
"The competition side of things might seem intimidating but it's actually shaping the industry," she said.
"Competitions are usually two or three years ahead of what's happening in the industry, five years ago we saw someone freeze coffee for the first time to see how it would affect the flavour and now that's commonplace, for example.
"It's an industry that is built on passion, in the pursuit of flavour, and pushing the boundaries in competition drives us."
Ferreyra, who travels internationally in her job as a green bean buyer for Project Origin, believes Canberra has some of the best coffee in the world.
"The quality of coffee in Canberra is extremely high," she says.
"You could walk into any random cafe and get a great coffee."
In good news for coffee drinkers the award-winning blends will be on sale at Ona's cafes.
"We serve these coffees that we use in competitions in our cafes," Kelly says.
"I think we're one of the only people who have lists full of these competition coffees.
"Yes they are more expensive but they are delivering a new experience."
Karen Hardy is a reporter at The Canberra Times.