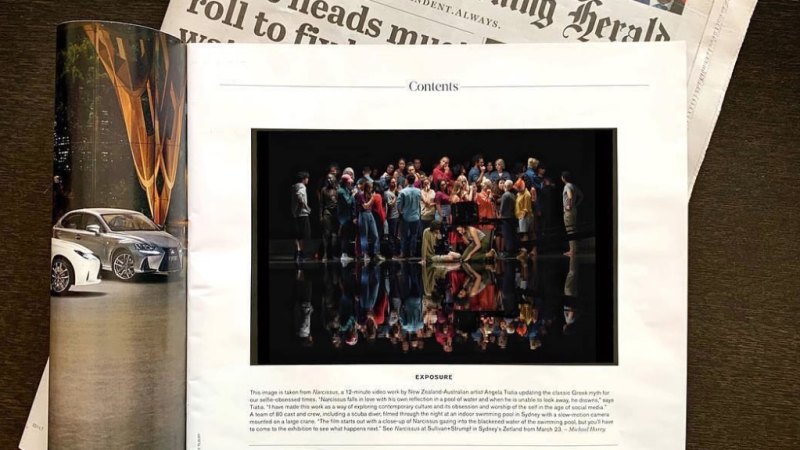 Jacqueline Maley's portrait of Elizabeth Broderick [February 9] leaves me in admiration of Broderick's creed of listening and trying to find points of common ground between protagonists. Her hope for consensual rather than adversarial government in Australia could be realised and a consensual system could be manipulated by people standing as, and/or voting for, independent candidates. I suspect female candidates would have the advantage there. Meg Mack, Chermside, QLD
I really enjoy your articles, so I was sorry to read that Elizabeth Broderick was the 2016 Australian of the Year. My understanding is that it was David Morrison. Robin Morton, Lindfield, NSW
Ed's note: You are right, Robin. Elizabeth Broderick was NSW Australian of the Year in 2016 and Morrison was national Australian of the Year. Good Weekend apologises for the error.
Feline smoochy​
Having just read Amanda Hooton's article about the family cat [February 9], I have to object strongly to her cavalier attitude about the cat leaving the house to «murder local wildlife». Murdering wildlife is exactly what uncontrolled cats do, with disastrous consequences for our native animals. Maureen Snelgrove, Suffolk Park, NSW
Two of us
Jane Albert, we all loved your story about the high school teacher dreamboat and the lovely Haline [February 9]. We need more stories on people taking a chance at life. It gave my family lots of laughs and hope. Carla Rathmell, Balgowlah, NSW
Kitchen sink drama
Every week, I turn straight to Back Chat to read Paul Connolly's piece. Never have so few words said so much. Just love it. Sandra Renwick, Concord, NSW
Social
F: KIARA ASUZU I'm crying, this is so cute [Two of Us, February 9]. I feel my cold dead heart twinge.
F: SARA HERTZ Fancy that, two people connecting without a dating app! They sound a perfect match.
F: ADARA HARTMANN Beautiful, beautiful story. My hubby asked me out on a date over the phone at work. He worked for a supplier company; we had never met. Fifteen years later we are still together. When you know, you know – and sometimes love pops up in the most unusual places. The universe is aligned and it's magic.
T: @AFPCOMMISSIONER Great article [«Soft Focus«, February 9]. @LizBroderick has made an enormous contribution to the @AusFedPolice. We are just one of many organisations she has helped acknowledge their challenges and understand how to become better versions of themselves.
T: @JKAZIUNWOMEN An insightful and inspiring article about purposefully and effectively advancing the gender-equality agenda by shifting power dynamics at the very top. Thanks [Elizabeth Broderick] for bringing Male Champions of Change to Pakistan; wishing you continued success.
T: @HUTCHHUSSEIN Good advice by @TinaTchen for all the times you're the «only one» in the room. [«White House Confidential«, February 9.] «Know that you're there for a reason. Know what you're talking about, do your homework and own your space in the room.»
Want to chat? We'd love to hear from you. Send your letters to [email protected] (please include your suburb, state and a daytime phone number). Or give us your thoughts at Good Weekend magazine on Facebook, and @goodweekendmag on Instagram.
To read more from Good Weekend magazine, visit our page at The Sydney Morning Herald, The Age and Brisbane Times.