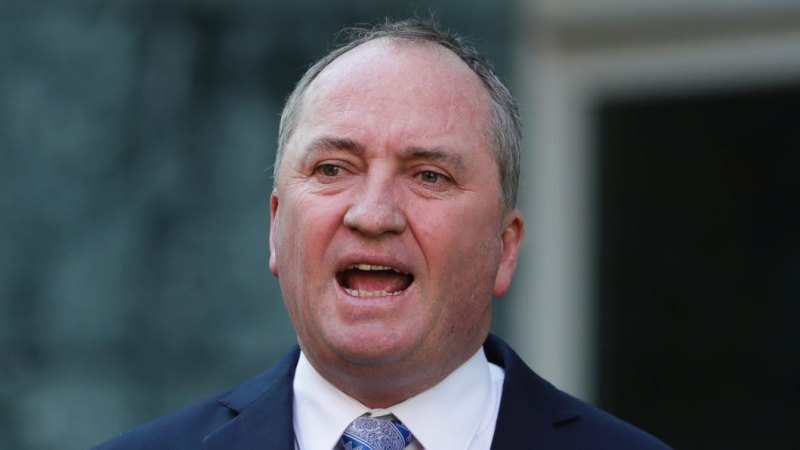 The report criticised Mr Joyce for a letter he sent to the South Australian Water Minister.
Loading
In the letter, Mr Joyce said he couldn't see 450GL of water being recovered from the environment without negative impacts to the state's communities.
The report said the letter ignored the «test of social and economic neutrality».
«That is no trifling thing, as that section was (and still currently is) the law,» the report stated.
However, Mr Joyce stuck to his guns and said he was giving a voice to the irrigation towns of northern NSW and southern Queensland.
Loading
«You can't take water away from these places and say that there will be no negative economic impacts,» he said.
«If you go to the people of Berry, or any other irrigation town, right down to the dairy farmers, and say that taking water away will have no negative economic impacts. These people deserve their voices to be heard and I always make sure that happened.
«They're trying to rewrite history. [The] South Australian government signed off on the plan.»
The former water minister also encouraged the government to stay the course and ignore the royal commission's recommendation for a complete overhaul of the Basin Plan, which includes reallocating more water from irrigation to the environment.
Loading
«This is something that was done in a bipartisan way, which got all states on board to sign off on,» Mr Joyce said.
«You are never going to have the perfect outcome. It's not possible with such divergent and strong views.»
«There were incredibly difficult negotiations over many years; let's go forward with what we've got.
«My view is quite clear – even though you've got a scab, don't put it off. If you remove it, no one wins.»
The law in question relates to the Basin Plan, and sets out the steps the MDBA must take when adjusting water supply. One of those steps is to test that the adjustment will have a positive or neutral impact on social and economic interests.
As Mr Joyce was the water minister, not the MDBA, the law did not apply to him.
What Mr Joyce did, in espousing his views in that letter, was ignore the test of positive or neutral impact. Mr Joyce talks about «negative» impact, which is not the right test.
The Northern Daily Leader