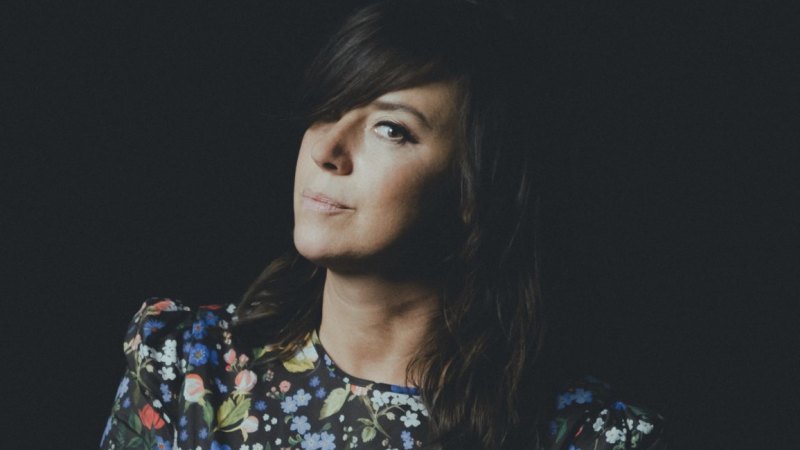 The tempo stayed downbeat with a medley that showed off Marshall's ability to bend songs to her mood. Starting with Nick Cave's Into My Arms, her funereal tone making the original seem sprightly by comparison, it then chased the doomed lovers down James Carr's Dark End of the Street, before consigning them to their fate with I Am Stretched on Your Grave, the kind of Irish death ballad Marshall was born to sing.
This tragic tour de force, which shushed the settling crowd, was given a final note of hope by Horizon. Marshall's yearning tale of heavenly meeting, from last year's Wanderer album, was further uplifted by Erik Paparazzi's stately keyboard and Adeline Jason's chiming guitar.
Unfortunately, things dragged for a while after this great start. The magic in Power's songs, many of which lack choruses or even strong melodies, is in her phrasing of their impressionistic lyrics.
However some of these subtleties got lost in the mix, and Marshall seemed to know it too, pointing to her guitarist at one stage and giving the sound engineers the «cut it out» sign.
The Wanderer songs, with their repeated motifs that slowly build a mood on record, suffered most from the live sound niggles. Both Me Voy and Robbin Hood met lukewarm receptions. Even album standouts In Your Face and Woman could have been better, with Marshall's instinct to reinterpret meaning she didn't quite nail the former's «in your face» pay-off line against its self-satisfied protagonist. The latter's lack of the Lana Del Rey part drained some of its anthemic power.
This middle stretch still had great moments. Marshall is always fully invested in what she's singing, and when she gets hold of a line like «metal heart you're not hiding», it's impossible not to feel something too.
There was another brilliant medley stretching from Bob Dylan's He Was a Friend of Mine, sung in harmony with Paparazzi, to Boys Next Door's Shivers, where Marshall let her high range soar and Alianna Kalaba laid down some welcome rock'n'roll drumming.
The bright keyboards and four-to-the-floor beat of 2012's Manhattan kept the crowd moving, but this night climaxed with Power's debut single, accompanied only by electric guitar.
The lack of adornment meant Headlights achieved its full heart-rending power, Marshall's improvised lyrics about getting her stage name adding pathos to the tale of the child car accident victim who'll never have such chances.
«Keep your chin up,» Marshall told us as she left the stage, no doubt aware of the impact this show – despite its problems – was still able to achieve.