There were 692 episodes of Prisoner broadcast in Australia in its original run between February 27, 1979 and December 11, 1986.
The National Film and Sound Archive in Canberra is lucky enough to be hosting its Prisoner event on the exact date — February 27 — of the 40th anniversary of the very first episode airing.
On Wednesday,  Smith and Muggleton will be at the archives as they share their memories of the show, discuss its legacy and react to their characters' best scenes.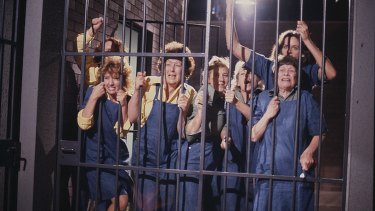 Allan Caswell will also perform the Prisoner theme song he wrote, the oh-so-mournful, On The Inside.
Muggleton was in Canberra on Friday ahead of a gig hosting the Canberra Area Theatre Awards at Llewellyn Hall on Saturday.
As vibrant and engaging as ever, Muggleton said Prisoner was dear to her heart, with her character Chrissie Latham ultimately becoming pregnant in jail and having her child taken from her.
«People sometimes rubbish the old soap operas but I'm very proud of the work I did in that,» she said.
«You were allowed to run the gamut of emotions. One minute I was every funny and the next I was violent and angry and bitter. And then I was able to get sympathy from people when I got pregnant and the baby was taken from me.
«It was such a wonderful job to be in and such a major breakthrough.» It was a show that put the women and their stories front and centre. (And as an aside, Muggleton will be reuniting with the now adult man who played her baby in the show in another Prisoner event in Melbourne on Sunday.)
Muggleton first appeared in episode three of Prisoner. What was meant to be a short-lived role turned into 106 episodes due to viewers demanding to see more of her.
Acting in the show was a lot of fun.
«Back then, we had no fight coordinators at all. It was a free-for-all. How we didn't get hurt — and some of us did,» she said.
«One time, Val Lehman's elbow caught my nose and it just exploded with blood. After that aired, I was walking in the street, and people were just, 'Oh, that make-up in that fight you had with Bea was fantastic'. I didn't have the heart to tell them it was real,» she said.
«How we didn't get teeth knocked out. The riot scenes were a riot.»
Muggleton is also using her time in Canberra to research her next role as ground-breaking Australian actress Coral Browne (who also happened to marry horror movie actor Vincent Price). She will be performing her one-woman play about Browne, That F***ing Lady, in London and then in Australia. She wants to bring the play to Canberra and is looking for a venue in Canberra or Queanbeyan. Any takers?
Megan Doherty is a reporter for The Canberra Times