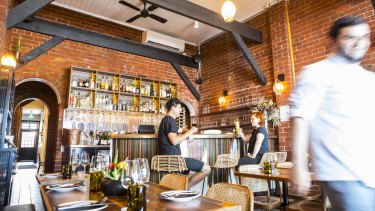 Opened last October, it's the first restaurant for Kroll and Forteza, who spent a year renovating this heritage terrace in Fitzroy North. Citrico has a rough-around-the-edges likeability that comes with being put together by people working it out, not brand agencies ticking boxes.
The room isn't trending. There's no velvet. It isn't entirely pink. Wicker chairs and soft lighting meet big beams, red bricks and vibrant details like table cacti and a bar wrap that resembles a pretty Peruvian weave. It's testament to how personal and friendly the place and people are that the bar is being used for post-workout malbecs by women in spandex.
The bar side of the business has form. Beers split the difference between Chilean and Mexican numbers and good local juice like La Sirene's citrus sour and Temple's smashable bicycle beer. The wines are either hyper-local heroes (Denton pinot, Jamsheed syrah and a sparkling from Oakdene, near Geelong) or Argentinian and Spanish malbecs, torrontes and tempranillos.
If you like grassy raw spirit pisco, they have a bunch from Peru, but also Chile and two homegrown versions from Australia, which you can get straight up, soured, or in a cocktail whose mix with lemon and Inka Kola is like a long island iced tea taken way south of the border. Everything is meticulously balanced and dressed, right down to a watermelon soda stuffed with mint and lime for a sober trip.
By contrast, the food is touch more out there and rustic. The Nikkei-style ceviche has a nicely vibrant tigre de leche (the spicy, citrusy fish marinade, spiked with ponzu in this case) but the messy assembly of large, chewy cubes of kingfish and a couple of whole scallops over an iceberg leaf with corn nuts sucks a little appeal. Our sliced chorizo seems to have met the grill for too short a time, too.
Far better from that kitchen hearth is a mountain of salty, citrusy and tender sections of suckered octopus tentacle and more delicate sheets of calamari. Ignore the wan side of pak choy with miso dressing and it's a cracker.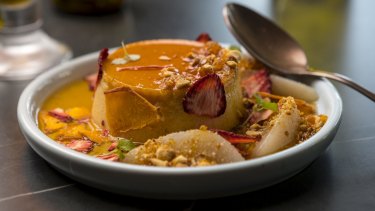 A smoked chilli-marinated spatchcock, meanwhile, is one of the best restaurant poultry moments I've had in an age. Dark crisp skin meets juicy, tender meat and a fresh and fiery kapallaq sauce made from yellow chillies and celery.
There's an emphasis on catering to vegetarians, too, which is refreshing for a meat-heavy cuisine, but not always a success. The pastel de choclo, billed as a corn and eggplant terrine, is actually a hot, sweet-savoury cornbread situation with fudgy layer of eggplant and provolone in the centre and sticky corn puree base. Odd, but interesting.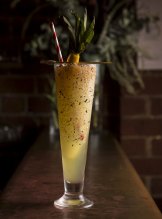 Cauliflower, however, in a grainy, soupy gratin of soy milk, chillies and manchego, topped with walnuts, needs more time in the workshop.
Best Chilean around? Not yet. But it's a great little neighbourhood place to chill. Order wisely and drink deeply for the win.
Score 13/20
Address 376 Queens Parade, Fitzroy North, 03 9482 1482, citrico.com.au
Open Thu-Sun noon-11pm; Mon, Wed 5pm-11pm
Vegetarian Lots of options, including vegan ceviche, some better than others
Drinks Great South American, Spanish and Aussie beer and wine list, specialising in piscos
Cost Small dishes $6-$21; large plates $33-$42
Go-to dish Grilled spatchcock marinated in panca smoky chilli, kapallaq sauce ($35).
Pro tip Come for the drinks, stay for the empanadas and spatchcock.