It is a problem for both sides of politics. The ALP has been embarrassed by former Senator Sam Dastyari's close ties to Mr Huang.
Many on the right, however, who are most hawkish about China, also face a dilemma because they are committed to promoting coal exports even in the face of the dangers of climate change. From a national security point of view the less economically dependent Australia is on China the better.
There is no simple answer. China is not going anywhere, its regime is not going to collapse and the authoritarian political direction it has set under President Xi Jinping is only likely to generate more conflict.
Australia's total ban on Huawei, one of China's most successful private technology companies,  over concerns the Chinese Communist Party could use it to spy on the 5G network, is a case where Australia has put itself directly in Beijing's firing line.
Australia has also shown solidarity with Canada which has come under pressure from China since it arrested Meng Wanzhou, Huawei's chief financial officer, who is facing extradition to the US for allegedly breaking US sanctions against Iran.
Yet some of our allies have been less confrontational. They have given Huawei the chance to prove it can guarantee Chinese spies are not planting bugging devices in its equipment. New Zealand announced it might block Huawei in November last year  but appears to have wobbled after China cancelled a lucrative tourism promotion deal this month and an Air New Zealand flight to China was turned back mid-air.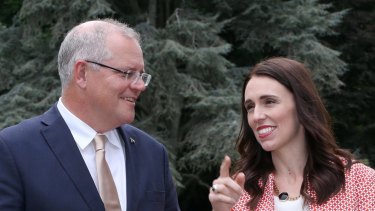 Asked about the issue at her meeting with Prime Minister Scott Morrison on Friday, Prime Minister Jacinda Ardern hedged, saying it might still be possible to use Huawei equipment. She is not alone. Britain this week said it too hoped it could manage the security risk from Huawei.
Australia should follow developments elsewhere and keep an open mind. Banning Huawei imports comes at a cost too and should only be a last resort. If a technical fix is possible it is much to be preferred.
Moreover there is no point in artificially raising tensions, especially at a time when the direction of US policy is in flux. President Donald Trump's trade war with China has added to the tensions in the region. The US is demanding China opens markets in exchange for the US dropping punitive tariffs it has imposed on $250 billion of Chinese goods.
There are signs however that Huawei could be a bargaining chip in those talks. While the US has a de facto ban, Mr Trump had threatened to sign an executive order permanently banning Huawei from US networks. Yet this week he tweeted he wanted «to win through competition, not by blocking out currently more advanced technologies».
This is not to say that it is impossible to stand up to China. Huawei is now under pressure to prove its independence from the Chinese government. That is a good thing.
Yet Australia must learn to co-exist with a powerful China at a time when the US commitment to free trade and its global role are increasingly in doubt.
The Herald's editor Lisa Davies writes a weekly newsletter exclusively for subscribers. To have it delivered to your inbox, please sign up here.