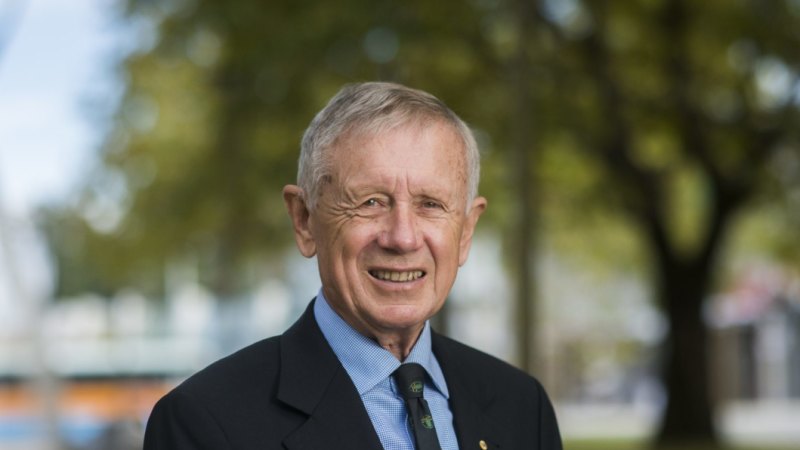 President of the ACT Bar Association Steven Whybrow said Justice Miles would be remembered for being courteous and scrupulously fair.
"He really was a student of the law, and took his position as an arbiter of the law as a very serious undertaking, and was very anxious to ensure that he did justice," he said.
"He was chief justice through interesting times, and nobody is going to remember it for being an ineffectual, inactive, indecisive, slow. He was a good judge and a good administrator, and I think that all comes from him being a real servant of the law."
He said Justice Miles was never aloof off the bench or in retirement.
"He always maintained contact with the bar, he was never in the least bit reticent to talk to young barristers, and he was a lovely person," he said.
"On the bench he could be hard, but I think that was because he was doing such important stuff that he took so seriously.
"But you would not have a found a more lovely human being off the bench."
Close friend John Purnell is a senior counsel who named his chambers after Justice Miles.
"He was here for opening of the chambers and made a speech almost five years ago," he said.
"We were very close friends — I saw him on Friday.
"He'll be remembered as a judge who was very effective as a chief justice and as a trial judge, because he got his judgements out in a timely fashion, and very few of them were overturned on appeal.
«He'll also be remembered as being extremely loyal to his fellow judges as chief justice."
Justice Miles led an inquiry in 2005 into whether David Eastman, accused of killing ACT police chief Colin Winchester, had been fit to stand trial.
In a 2018 interview with The Canberra Times, Justice Miles said the Eastman case had been all-consuming for several years.
"I can say it and I did say to many people — many years went by when never a day passed without me thinking about the Eastman case," he said.
Justice Miles began his career as a solicitor in NSW in 1958, and became a barrister in 1965.
He spent two years as a judge of the National Court of Papua New Guinea from 1980, until he was appointed to the Supreme Court of NSW in 1982.
He said from the time he was appointed to head the ACT Supreme Court in 1985, he was committed to the job, but he also grew to love Canberra.
"I liked Canberra — I knew it a bit because my parents had lived here, and during the time I was on the bench, I was just caught up in the work, there was no question of going anywhere else, our children were brought up here," he said.
"When we retired, we still had our house in Sydney, we hadn't sold it, so we thought we'd go back and see whether we'd prefer to be in Sydney or Canberra.
"We did six months in Sydney and we decided no, back to Canberra."
He was made an officer of the Order of Australia in 1994, and received the Centenary Medal in 2003.
In 2016, he was added to the ACT Honour Walk in Civic.
He is survived by his wife of 42 years, Tricia Miles, his children Anna Sinclair and James Miles, and five grandchildren.
Sally Pryor is a reporter at The Canberra Times.