"Gal got me … it's all over."
People are prepared to pay to see the bad guy cop a flogging. Mundine is still counting his cash after making a career out of playing the villain. In every sense, this event was a sellout.
After a series of heavy shots – Gallen conceded he was looking to the referee to end proceedings before 'Hoppa' was seriously hurt – it was over just one minute and eight seconds into the second round. At least he lasted longer than Anthony Mundine in his curtain call.
The dilemma for those who parted with $49.95 to watch on TV was who to cheer for.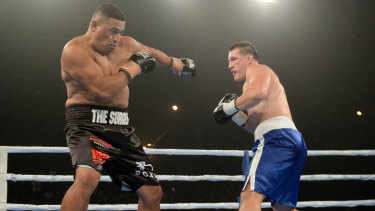 Do you side with the most suspended player in the history of rugby league, an unlicensed proctologist whose off-field rap sheet includes intimidating a parking officer, abusing a junior referee and assaulting a supermarket employee?
Or Paul Gallen?
Those at the Hordern Pavillion, here for the Star of the Ring promotion, appeared torn. Aussie sports fans love an underdog, a role Hopoate never experienced while at the Silvertails. Here, however, at the age of 45 against a man eight years his junior, 'Hopoate' was a $5 outsider. You should have been able to write your own ticket.
Both athletes are near the end but Hopoate's best is much further behind him. It has been more than a decade since he became the Australian heavyweight champion, those twin victories against Bob Mirovic a distant memory.
The length of the contest was thought to be to Hopoate's advantage. There were just six rounds, only two minutes in duration. In theory just enough to time land some big bombs and then recover from the exertion.
However, Gallen never let him settle and the fight lasted as long as he allowed it to. Hopoate attempted to get in close and work Gallen's body but was continually picked off, first by jabs and then power shots.
Loading
As far as reputations go, Gallen had more to lose. With his rugby league career still active, his reputation as a hard man would take a battering if he did. Not so long ago, Carl Webb was the toughest man in rugby league. A loss to a forklift driver proved to be even more damaging than his decision to join Parramatta.
However, Gallen – performing in front of the leaguies including Greg Inglis, Scott Prince, Damien Cook, Cody Walker, Latrell Mitchell and Jim Dymock – was too good.
The promoter is already talking about lining Gallen up against Manu Vatuvei and Justin Hodges, the latter earning a victory on debut against Ipswich removalist Rob Baron.
Tim Tszyu also made short work of his opponent. In the final fight before the Gallen-Hopoate main event, he scored a TKO victory over former Commonwealth champion Denton Vassell. The Englishman was meant to be his biggest test yet, but Tszyu was never troubled and keeps his undefeated record intact.
Adrian Proszenko is the Chief Rugby League Reporter for the Sydney Morning Herald.