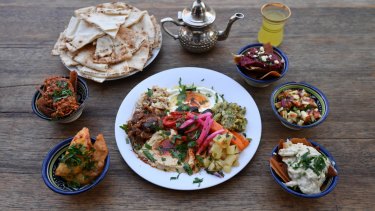 The system worked. Little has altered in 21 years. Dinner still begins with glass thimbles of sweet tea, or biting fresh lemonade bristling with mint in summer. The banquet is still the go-to. Back then it cost $15. It's still a crazy $28 for more than you can handle, made the most labour-intensive way, every day, to ensure maximum kitchen employment.
It's a rainbow of dolmades, beetroot and walnut dip, sometimes nutty cous cous wrapped in eggplant. There's the squeaky, sparkly haloumi salad, all bright citrus, herbs and onion. Preserved lemon, pickles and flavours of cinnamon and saffron spike endless combinations of pulses and grains and seasonal vegetables wrought into practiced stews, salads, soups and tagines. It all brackets the chickpea bake – layers of crisp pita bread, chickpeas, silky garlic labna and almonds caramelised in a sea of butter.
Cheap? Yes. Charity? Still no. Assafiri could charge more, but caps profit to prove that social justice and sustainability can be part of a successful business model. And the community, whom she credits with this year's Order of Australia medal, have made it possible.
Every month there are «Speed Date a Muslim» sessions, opening the doorway to taboo questions. At her nearby takeaway, Moroccan Soup Bar Two Go, a library has been built in an upstairs apartment where every book, spanning cooking to politics, is written by women, celebrating women who have changed history yet whose names you may never have heard.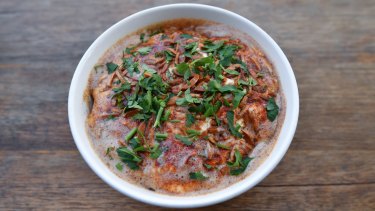 Come for how good it tastes, stay for how good it is.
Address 183 St Georges Road, Fitzroy North, 03 9482 4240, moroccansoupbar.com.au
Open daily 11am-10pm
Est. 1998
Signature dishes The chickpea bake, haloumi salad, the banquet with sweets and tea.
Famous diners Coming up: incredible 104-year-old dancer and choreographer Eileen Kramer will launch the reading room on March 10. Check moroccansoupbar.com.au for updates.