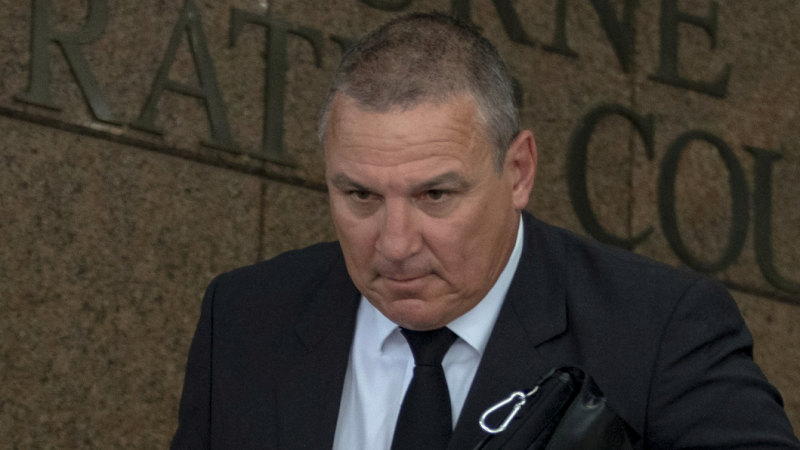 Mr Moncrieff's executive assistant, Rebecca Apperley, gave evidence on Monday via video link during a four-day committal hearing that she was scared of what her boss was capable of when he was angry.
«I've watched John use his contacts and his staff to make things go away,» she said.
«He's easily angered. It takes barely anything to flip his lid.
«I was very concerned if I angered him.»
Ms Apperley told the court that she was traumatised after a confrontation involving Mr Moncrieff and his wife, Traci, at the Bayside headquarters of the security firm in October 2015.
Security cameras captured Mr Moncrieff pushing his wife down a hallway during a heated exchange in 2015, but both parties denied an assault had occurred and no police charges were laid.
Ms Apperley said that she had contacted police after the incident because: «I felt if she was killed I would feel responsible.»
«I was very, very concerned for Traci's welfare,» she said.
Ms Apperley was asked by defence barrister Robert O'Neill about a statement she gave to investigators, including that Mr Moncrieff would regularly use the word «f—«.
Mr O'Neill asked Ms Apperley if the language was not directed at staff members but «part of his narrative».
«I think it's both,» she said.
Ms Apperley gave evidence that she «couldn't give you a number» when asked how many times Mr Moncrieff had slammed the table during Monday and Friday staff meetings.
«It was too many to count,» she said.
She also told the court that Mr Moncrieff had called guards dumb babies and that he once told his staff to replace chocolate with healthy food, referring to one as «fat and lazy»
Ms Apperley also referred to The Brotherhood in her evidence, telling the court that she was asked to send an email requesting a contact at the auditing company SAI Global.
She said she would use the email newsletter service Mailchimp and the words: «Gentleman, is there anyone who has contact in the SAI Group that John could make contact with».
In 2011, then Ombudsman George Brouwer released a scathing report on The Brotherhood, which found it had the «potential for illegal and improper exchanges of information or favours».
«The whistleblower also said that attendees at The Brotherhood lunches asked Victoria Police officers to perform LEAP (Law Enforcement Assistance Program) checks and provide information on the status of various police investigations,» the report said.
HR manager Susie Camillo also gave evidence via video link during the committal, telling the court that she was scared of Mr Moncrieff because he was so «unpredictable».
«He's had me followed, he's had my family followed, he's had my friends followed,» she said.
«Yes I am terrified of him. I fear of seeing him.»
The hearing continues on Tuesday.
Tom Cowie is a journalist at The Age covering general news.