The Coalition would finance the drought plan by diverting $3.9 billion in unspent money from the Building Australia fund, established by Labor in 2009 to provide capital investment in infrastructure such as roads, rail, communications, energy and water.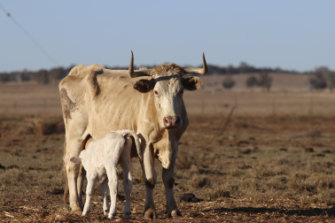 Under the government plan, grants totalling up to $100 million a year would be paid for using investment earnings from the initial capital injection. The pool is expected to grow to $5 billion within a decade, and would be managed by the Future Fund board of guardians led by former Howard government treasurer Peter Costello.
The money would be granted to individuals and groups such as universities, councils and state governments, for projects related to climate adaptation, building sustainable agriculture and growing more with less water.
Labor's agriculture spokesman Joel Fitzgibbon said the Building Australia Fund was designed to pay for infrastructure projects critical to rural and regional Australia, and "it makes no sense to rob Peter to pay Paul".
He said Labor would match the government's funding pledge for drought-proofing projects while simultaneously building infrastructure.
«We are making very significant savings through our economic reforms including negative gearing and dividend imputation. We have the money to invest … it will simply be funded from the budget like most things are,» he said.
Mr Fitzgibbon described the government's plan as a «National party slush fund» and cited concerns raised by the Senate bill scrutiny committee, which in a December report said the agriculture minister would have broad powers to make grants and parliamentary scrutiny over the decisions would be «very limited».
As of Tuesday morning Labor was yet to enter discussions with non-government senators to test support for its position. It would require backing from the nine Greens senators and three other crossbenchers to successfully block the legislation, which is expected to be debated this week.
Liberal Democrats senator David Leyonhjelm told the Sydney Morning Herald and The Age he would oppose the bill, describing it as «reassignment of imaginary spending» and «posturing».
A spokesman for Greens senator Janet Rice said the party had «significant concerns about this bill and how the fund would operate».
«It should not be a slush fund for the government's big business mates, or a fund that props up unsustainable infrastructure such as big dams and excessive water allocations for irrigation, or provide big payouts to big agribusiness,» the spokesman said.
The fund's initial capital should not be invested in coal or gas projects, or other activities that were contributing to climate chnage and drought, he said.
In a statement, Agriculture Minister David Littleproud said Labor had «turned its back on regional communities across Australia that are suffering from the effects of drought».
«They have decided to play politics with the future of Australian farmers when they're at their most vulnerable,» he said.
Mr Littleproud questioned why Labor supported the bill during the committee inquiry but was now opposing it.
Mr Fitzgibbon said this was because Labor did not oppose the broad objectives of the fund, but had expressed concern during the committee process about diverting funds allocated to infrastructure.
Finance Minister Mathias Cormann said the government had developed «a clear, effective and fiscally sustainable plan to support regional communities struggling with the effects of drought».
«Country people across Australia cannot trust [Opposition Leader] Bill Shorten. His latest weak and short sighted decision to try and block the Future Drought Fund legislation in the Senate is the latest manifestation of that,» he said.
Nicole Hasham is environment and energy correspondent for The Sydney Morning Herald and The Age.