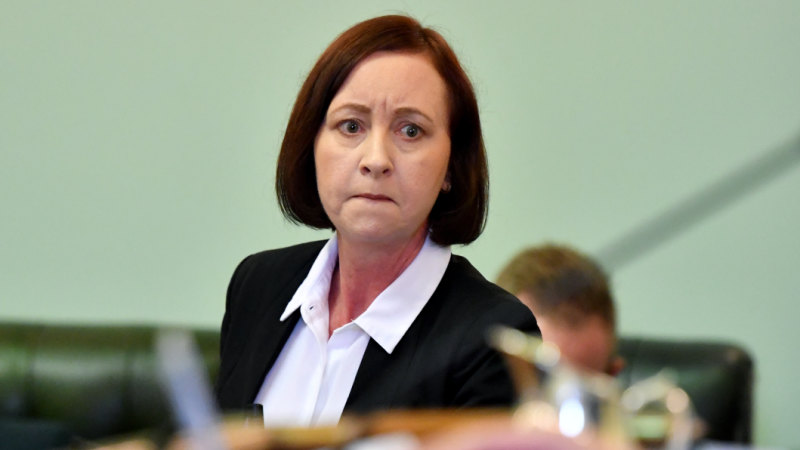 Mr Janetzki said the text said: «Should you advise other persons, you could be charged with contempt of court for which you could be sent to prison.»
However, Ms D'Ath accused the LNP of «cheap, inaccurate political point scoring» and said the government was only following rules set down by the court.
Ms D'Ath said the Supreme Court imposed the suppression order, which was not at the request of the Queensland government.
She said the court granted permission for information to be shared with government staff and victims, with a requirement that those people notified were also told about the suppression order.
«In relation to Ms Tomlinson, I have no intention to divulge the private conversations which I have had, and my office have had with her,» Ms D'Ath said.
«Other than to state that she was verbally advised after we sought permission from the court of the decision of the court in the Fardon matter and of the suppression order and as required by the court advised what the consequences would be if there was a breach of that suppression order.
Loading
«It would be irresponsible not to advise that individual of the consequences.»
Ms D'Ath said Ms Tomlinson was told verbally by her office and then asked if she was happy to also have that forwarded in a text to confirm the information in writing.
«And she agreed,» she said. «That is the context of that text message, it's not to cause harm or in any way threaten a victim of Robert Fardon, but to advise her of the consequences of the order if there were to be a breach, as we are required to do by the court.
«It is offensive and disgusting that those opposite would use the understandable pain and anguish of a victim for cheap, inaccurate political point scoring.
«My thoughts are constantly with Ms Tomlinson and other victims.
«These individuals should not be used as political pawns.»
LNP Women spokeswoman Ros Bates asked Police Minister Mark Ryan to reveal where «Queensland's most dangerous sex offender Robert John Fardon was living».
Mr Ryan said Police Commissioner Ian Stewart knew where Fardon was.
«That's our laws, and the Police Commissioner also assures me that the community is safe because we have the strongest regime of monitoring of sex offenders in the nation,» he said.
Felicity Caldwell is state political reporter at the Brisbane Times