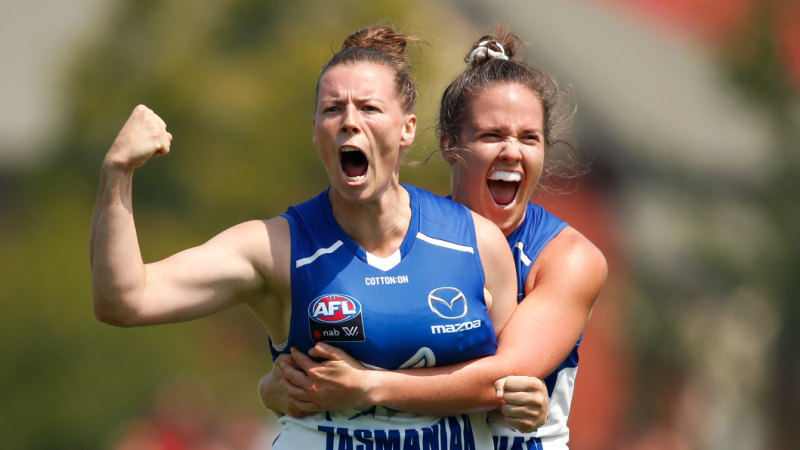 In the first two AFLW seasons, the top two sides faced each other in the grand final. I believe the same thing will happen this season. Despite conference A featuring North Melbourne, Fremantle, Melbourne, Adelaide and the Western Bulldogs in a much stronger pool, its top two should still advance to the decider if they are good enough.
Let's look at another conference system for a quick comparison. The NBA, sure, men who get paid multimillion-dollar deals quite dissimilar to our AFLW athletes, also have conferences. They are geographical, and not seeded: eastern and western.
Loading
These conferences in the 2018 NBA championship were widely talked about as lopsided when it came to overall team talent. In the west, the Houston Rockets and Golden State Warriors went the distance in their best-of-seven conference finals series. Golden State won and went on to sweep the eastern champion Cleveland Cavaliers 4-0 in the league decider. The standard of the conferences was glaringly different.
Fortunately, unlike the millionaire NBA athletes, we have the benefit of mixed-conference semi-finals.
Based on the current ladder, North, the top team in conference A, would play Geelong, second in conference B. The Kangaroos, currently the stronger team, would be expected to progress to the grand final.
Fremantle, second in conference A, would play Carlton (top, conference B), with the Perth side also be expected to progress.
Had the AFLW stayed with the traditional ladder – without a semi-final as per both previous seasons – then based on current standings, North would also meet Freo in the decider.
The reality of a short season, no matter what your conference or what season you've played in, is that to give yourself the best chance of playing in that grand final you need to win as many games as possible and accumulate percentage whenever possible. This will get you to the big dance.
I get the feeling this isn't the end of the conference drama. The win/loss count will change significantly in the coming weeks.
Instead of worrying about this year's system, time would be better spent before season four making sure that with the rapid expansion coming in 2020, the rules associated with this are carefully looked at to ensure that we can have the best four teams in the finals.
Bec Goddard is an AFLW premiership coach.
CONFERENCE A
                                  W         L            %           Pts
North Melbourne     3           0          250.8           12
Fremantle                  3           0          156.6           12
Melbourne                   2           1          158.4             8
Adelaide                       2           1          141.4             8
W Bulldogs                  2           1            86.0             8
CONFERENCE B
                                   W        L              %           Pts
Carlton                         1          2              86.2            4
Geelong                        1          2              62.6            4
Brisbane Lions             1          2              58.4            4
GWS                               0          3              60.6            0
Collingwood                 0          3              49.5            0