The office of the Manhattan district attorney, Cyrus R. Vance Jr., first began investigating Manafort in 2017 in connection with loans he received from two banks.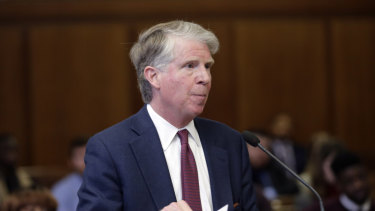 Those loans were also the subject of some of the counts in the federal indictment that led to his conviction last year.
But the state prosecutors deferred their inquiry in order not to interfere with Mueller's investigation.
They resumed their investigation in recent months, and a state grand jury began hearing evidence in the case, several people with knowledge of the matter said.
The panel is expected to wrap up its work in the coming weeks, several of the people said, and prosecutors likely will ask the grand jurors to vote on charges shortly thereafter.
Vance's office is expected to seek charges whether or not the president pardons Manafort. The plan was first reported by Bloomberg.
Manafort's defence team is likely to challenge any charges brought by Vance's office on double jeopardy grounds.
New York state law includes stronger protections than those provided by the US Constitution.
But prosecutors in Vance's office have expressed confidence that they would prevail, people with knowledge of the matter said.
Jason Maloni, a spokesman for Manafort, said his legal team had no comment. Vance's office also had no comment.
Manafort, who worked for Trump's campaign during a critical five months when he became the Republican Party's presidential nominee in 2016, was convicted in federal court in Virginia in August on eight counts of various financial crimes.
Prosecutors said Manafort used foreign accounts to hide millions of dollars from his political consulting work in Ukraine and evade taxes, and lied to banks to obtain millions of dollars in loans.
Weeks later, he agreed to plead guilty in a related case in federal court in Washington, DC, and cooperate with prosecutors from Mueller's office.
But the deal blew up when a judge ruled he had repeatedly lied to the government about his contact with a Russian associate during the campaign and after the election.
Prosecutors claim that the associate, Konstantin Kilimnik, has ties to Russian intelligence, and have been investigating whether he was involved in a covert attempt to influence the 2016 presidential election results.
In the Manhattan case, the evidence presented to a grand jury appears to be connected to loans issued by Citizens Bank in Rhode Island and Federal Savings Bank in Chicago.
The district attorney's office has jurisdiction to bring the charges because New York City is a financial centre through which US dollar transactions typically flow.
The banks have received grand jury subpoenas for records relating to the loans they issued to Manafort, which were worth millions of dollars, people with knowledge of the matter said.
The grand jury also has been hearing testimony about the loans.
Citizens Bank has been cooperating with the investigation, according to a person with knowledge of the matter. A spokeswoman for Federal Savings Bank did not respond to a request for comment.
It is unclear precisely what charges Manafort would face, but they could include three state felonies: falsifying business records, if the evidence shows Manafort used the loan money for an unauthorised purpose, mortgage fraud and tax evasion.
New York Times