House and land developer AV Jennings has blamed political uncertainty, «sensationalist» media coverage of the housing outlook and a «relatively sudden» slowdown in bank lending for a 90 per cent plunge in profits. The developer, which sells house and land lots in NSW, Victoria, Queensland and South Australia, reported profit of $1.42 million for the half year to December 31, down from $15.48 million in the previous corresponding period. Shares are down 3.5 per cent to 54.5 cents.
«The company believes that confidence is being suppressed by a combination of political uncertainty (especially federal tax policy), sensationalist press commentary about the outlook for residential markets and the relatively sudden tapering of residential property lending appetite of banks,» company directors told shareholders. AV Jennings warned shareholders in December its earnings would be skewed to the second half of this financial year and said new accounting standards had also affected its result.
Skydiving, hot air ballooning, and white water rafting company Experience Co has gone into a trading halt pending an announcement. The companies expects trading to return on Wednesday. Shares last traded at 26.5 cents. Shares were as high at 89 cents in late 2017.
Experience Co's chief financial officer resigned late last year and Skydiving jumps were down 4 per cent following an accident at Mission Beach and poor weather. It's guidance for the current financial year is revenue between $165 million and $175 million, with earnings between $37 million and $41 million.
JB Hi-Fi's shares are trading up 3 per cent, at $23.34, after it revealed a full-year profit forecast ahead of market expectations. Handing down a half-year profit of $160 million on Monday, up 5.5 per cent on last year, JB said it expected full-year profit of $237 million to $245 million. That compares to market consensus of $239 million. JB is the third most shorted stock in the ASX200, according to shortman.com.au, and its shares have been under pressure in recent years due to fears about weak consumer sentiment and competition from the likes of Amazon.
More from Patrick Hatch coming soon.
The federal government's $147 billion Future Fund declined by 1.2 per cent in the final quarter of 2018, from $148.8 billion to $147 billion. However, for the full year it delivered a 5.8 per cent return for the 2018 calendar year, a performance that significantly exceeded the strongest performing superannuation funds over the year. It only just met its performance target for 2018, which was 5.8 per cent, when it usually exceeds its performance target. The performance target was reduced in mid-2017.
The AFR's Jonathan Shapiro and Sarah Turner report the Future Fund touted its ability to deliver positive returns despite a volatile second half to the year when global equity markets slid, and a year in which most major asset classes failed to deliver positive returns. The fund said it has now returned 9.7 per cent annualised over 10-years tracking well ahead of their benchmark target return. The Future Fund's exposure to listed equities, which stands at 30 per cent, declined by $4 billion of the quarter, as equity markets sold off. The value of the fund's positions in illiquid assets increased by $3.3 billion, to $61 billion. That included a $1.7 billion increase in exposure to debt securities.
Journalists are currently in a conference call with fund managers.
The S&P/ASX 200 is up 7.5 points in early trading and is keeping above the 6000 level, currently at 6079.
Early leaders include Estia Health, up 4.7 per cent to $2.44, and Sigma Health, up 4.5 per cent to 58 cents, and JB Hi-Fi is up 3.7 per cent to $23.42.
Early laggers include News Corp, down 4.5 per cent to $17.97, and Spark Infrastructure, down 4.4 per cent to $2.40, and Incitec Pivot is down 3.3 per cent to $3.27.
JB Hi-Fi stocks have jumped out of the starting gate with a 6.3 per cent gain to $24.00 on the back of this mornings half-year profit increase.
Incitec Pivot is down 5.3 per cent to $3.20 and News Corp is down 4.5 per cent to $17.98. The S&P/ASX 200 is up 8.5 points to 6080 in the first few minutes of trading.
Rail freight operator Aurizon has reported a net profit down 19 per cent to $227 million for the December half, as revenue dropped more than $100 million compared to the prior corresponding period.
Aurizon shareholders will feel the pinch from the profit squeeze, with the company declaring an interim dividend of 11.4 cents per share (70 per cent franked), which is down 19 per cent on the first half of fiscal 2018.
Shares have dropped on opening to $4.34 from a closing price of $4.43 on Friday.
Electronics and whitegoods group JB Hi-Fi has grown its profit 5.5 per cent in the first half of the year, but revealed a slowdown in sales momentum in January and warned of ongoing volatility amid sagging consumer sentiment. The company on Monday reported net profit after tax for the half year ending December 31 of $160 million, up from $152 million in the same period last year, off the back of strong sales growth at JB Hi-Fi Australia.
JB Hi-Fi forecast its full-year profit would be between $237 million and $245 million, up 1.6 to 5.1 per cent on last year. The market consensus ahead of Monday was for full-year profit of $239 million.
Read the full story from Patrick Hatch here. There will be more updates after a media and analyst conference call at 10.30am.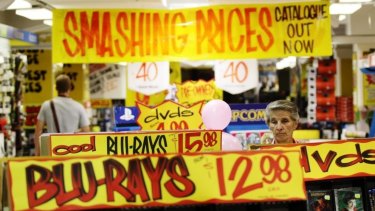 IG MARKETS SPONSORED POST
SPI futures down 4 points to 6007
AUD -0.2% to 70.88 US cents
On Wall St: Dow -0.3% S&P 500 +0.1% Nasdaq +0.1%
In New York, BHP +0.5% Rio -0.4% Atlassian +1.9%
In Europe: Stoxx 50 -0.5% FTSE -0.3% CAC -0.5% DAX -1.1%
Spot gold +0.5% to $US1316.61 an ounce on Friday in New York
Brent crude +0.8% to $US62.10 a barrel
US oil +0.2% to $US52.72 a barrel
Spot iron ore to resume trading today
Iron ore futures SGX +3.5% to $US92 a tonne
LME aluminium -0.7% to $US1880 a tonne
LME copper -0.6% to $US6210 a tonne
2-year yield: US 2.47% Australia 1.66%
5-year yield: US 2.44% Australia 1.70%
10-year yield: US 2.63% Australia 2.10% Germany 0.08%
US-Australia 10-year yield gap: 53 basis points
IG MARKETS SPONSORED POST
The last traded price in SPI futures is pointing to a 4-point drop at the open for the ASX200 this morning. The market demonstrated some signs of short-term exhaustion on Friday, after its face-ripping rally earlier in the week, as higher than average volumes propelled the index higher.
Resistance at ASX200's September low at around 6100/05 was dutifully respected as the week's high. The daily-RSI is still in over-bought territory, though not flashing a sell signal nor a major change in momentum yet. The week's break of the 200-day EMA is seeing that moving average slowly turn higher, which bodes well for the bulls. In the immediate future, the long-awaited pullback could be upon us here, with the November high at 5950 the next logical support level to watch.