Loading
Maurice Blackburn principal lawyer Josh Bornstein, who is acting for the AWU, said on Monday that the union was seeking a "declaration that the raids and the investigation were and are unlawful".
"That is the ultimate objective of the legal case."
The ROC investigation was established to probe whether the donations to GetUp! followed union rules. The commission is responsible for monitoring and regulating unions and employer associations.
Opposition Leader Bill Shorten was the head of the AWU when the donations were made.
Some of Ms Cash's former staff members have also been subpoenaed to appear in court, with her former media advisor David De Garis taking the stand on Monday. Ms Cash is due to give evidence on Friday.
Journalists were tipped off about the 2017 raids, which were conducted by the Australian Federal Police. But Ms Cash, who was employment minister at the time, has denied she had any involvement in tipping off the media.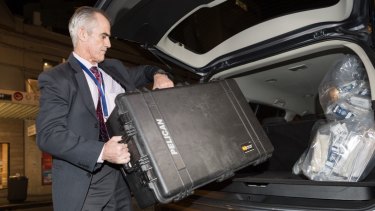 However, in October 2017 Ms Cash changed her evidence to a Senate estimates hearing after first insisting that her staff had no part in leaking to the media about the raids.
Mr De Garis resigned a short time later after it emerged he warned the media that raids would soon take place.
Mr De Garis told the court on Monday that he first heard about the raids at some time between midday and 4.30pm on October 24. The raids were carried out that day.
However, he refused to answer who told him of the raids.
"I respectfully decline to answer on the grounds it may incriminate me," he told the court.
It remains to be seen whether Justice Mordecai Bromberg will compel Mr De Garis to answer questions about who notified him of the raids.
Mr De Garis' lawyer, Jason MacLaurin, said his client was «just the media officer» and not involved in decision making in Ms Cash's office.
But AWU's lawyer Herman Borenstein QC disagreed.
"He's not low-hanging fruit. He's a significant person in the office," he said.
Earlier this year the federal police said they would not proceed with an investigation into how the raids were leaked to the press.
Outside court on Monday AWU national secretary Daniel Walton said the union had been waiting for the Australian Federal Police to conclude their investigation to bring on the legal action.
"We [began] this case because we believe the Minister Michaelia Cash misused her position by instigating an investigation into the AWU," he said.
Mr Walton said he hoped Justice Bromberg would see the minister's actions had been a "massive overstep and misuse of political resources".
"The AFP at the time of raiding our offices said they didn't have enough resources to run terrorism matters, to investigate drug rings," he said.
"Instead they were sent to our offices in large numbers to find a couple of pieces of paper relating to donations that were made over a decade ago and donations that were declared and made publicly available."
Benjamin is a state political reporter