«We don't always get it right,» Outram said.
On Monday night, Greens senator Nick McKim was incredulous at Border Force's email revelation. During the hearing, he repeatedly asked Outram to apologise. But Outram, who Malcolm Turnbull appointed as head of Border Force last year, demurred: «To offer an apology for him would say that I'm accepting that the outcome, what happened in Thailand, was entirely due to that error. I can't say that without speculating.»
Prime Minister Scott Morrison similarly said it was «a bit of a leap» to suggest Araibi would not have been jailed if Border Force had done their job properly. Home Affairs Minister Peter Dutton bemoaned the «hype» around the incident.
McKim has since slammed the lack of an apology from officials as «disappointing» and described Morrison and Dutton's responses as «obfuscation» and «a denial of reality». He is pushing for an internal Home Affairs review into the incident to be made public as soon as possible.
But amid the outrage over the forgotten email, there are strong grounds to suggest Araibi was doomed from the moment he decided to go to Thailand — no matter what Border Force and the AFP did or did not do.
In the midst of McKim's questioning, AFP deputy commissioner Ramzi Jabbour chimed in with what he described as an «observation».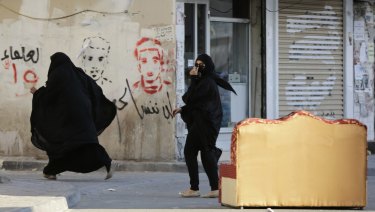 «As I understand it, from reporting, [Araibi] applied for a tourist visa to travel to Thailand on  November 4, 2018, nearly 12 months after the issuance of his protection visa. As I understand it, from reporting, he was issued with his tourist visa on November 8, and, on that same day, an Interpol red notice was issued by Bahrain, at the request of Bahrain.»
Asked if that was a coincidence, Jabbour replied «yes».
John Coyne is a former AFP officer who now heads up the border security program at the Australian Strategic Policy Institute. For Coyne, the fact that there were mere hours between Thailand giving Araibi a tourist visa and Bahrain issuing the red notice is too much.
«I'm extremely confident that he [Araibi] was going to be arrested no matter what.»
There is a suprisingly strong economic and political alliance between Thailand and Bahrain that goes all the way to the top.  The Bahraini royal family reportedly visits the Thai royal family every year.
'I think Australia has obligations'
Back in Melbourne, Araibi has been trying to get back to some kind of normal life. Rather than following Senate estimates, he was at football training on Monday. On Friday, he was off at a match with his Pascoe Vale team (due to his months spent in jail, Araibi was not fit enough to play).
John Didulica, however, has been keeping a close eye on the developments on Araibi's behalf. Didulica is chief executive of Professional Footballers Australia, the players' association that has been helping and supporting Araibi and his wife through their ordeal.
The PFA head says the argument that Thailand would have alerted the Bahrainis anyway is a «moot point». «I think Australia has obligations …  There are loose ends from our perspective that we need to follow up.»
While Didulica does not specifically mention compensation, he speaks of «remedies» and «justice» for what happened to Araibi. In part, these include assurances that other refugees will not suffer similar treatment.
There are also questions about Interpol's role in the affair. Araibi's experience has highlighted ongoing worries about the red notice system (which issues requests to locate and provisionally arrest people, pending extradition). It is supposed to be used for those suspected of committing serious crimes, but in practice some countries use it to go after political dissidents and other enemies.
(Bahrain claims Araibi vandalised a police station in 2012. He denies the claim and insists he was playing in a football match at the time it was supposed to have happened.)
While Interpol has a policy of not issuing red notices to refugees, in Araibi's case something went awry.
«There was more than one failure,» Coyne says. «Interpol should have looked at this and identified [the problem] from the start.»
At estimates on Thursday, the Department of Foreign Affairs and Trade said it was «thoughtful» about issues with red notices. Secretary Frances Adamson said this included implications for the department's travel advice and consular work, but also «bigger, broader questions» about how the system works.
From a legal perspective, Maurice Blackburn's social justice principal lawyer, Jennifer Kanis, says  Araibi's case is not straightforward but would be worth looking at.
«What happened to Hakeem al-Araibi hasn't been tested in a legal sense, it would be worthwhile considering what his [local and international] options are.»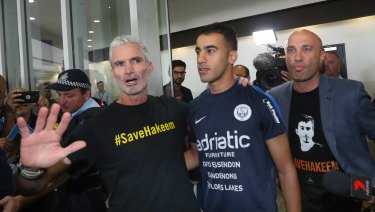 Kanis — who is not representing Araibi but has experience in cases involving refugees — adds just because the young footballer may have been detained anyway in Thailand, does not mean Australia is not responsible.
«Clearly there has been an error … from Hakeem al-Araibi's point of view, he has suffered as a result of that error,» says Kanis, who is also a former Victorian Labor state MP.
Previous media reports have said Araibi was given assurances by Australian immigration officials that it was safe for him to travel to Thailand. Home Affairs secretary Mike Pezzullo told Senate estimates he would get back to the committee on this point. Coyne, however, is doubtful about the scenario. Immigration officials do not, as a rule, issue travel safety advice.
Loading
Outmoded systems blamed
On Monday night, Outram said he did not blame the officer who forgot to send the email. He described Border Force officers working «around the clock managing huge volumes of transactions which require manual processes sometimes to bridge gaps between disparate IT systems». Many of these IT systems are also «past their use-by date».
While Border Force say it has now reviewed its processes — including double checks and more clarity about visa types — the whole episode plays into existing questions about the whizz-bang new Home Affairs Department.  Bear in mind the Coalition set up Home Affairs in 2017 to improve coordination between security agencies.
While Labor is not calling for any specific further action around Araibi's case, Bill Shorten was highly critical of the episode this week. «This is not just a mistake, it's not like losing paperclips, we're talking about people's lives here. This Home Affairs Department needs to be better run,» the Labor leader said, while declining to say just who Labor's prospective Home Affairs minister might be.
Meanwhile, Hakeem al-Araibi waits for important news around his application for Australian citizenship. Foreign Minister Marise Payne has said both Araibi and his wife will be Australians «very soon».
After his ordeal in Thailand, and the circus around him back in Australia, that piece of paper can't come soon enough.
Judith Ireland is a special writer, weekends, for the Sydney Morning Herald and The Age, based at Parliament House