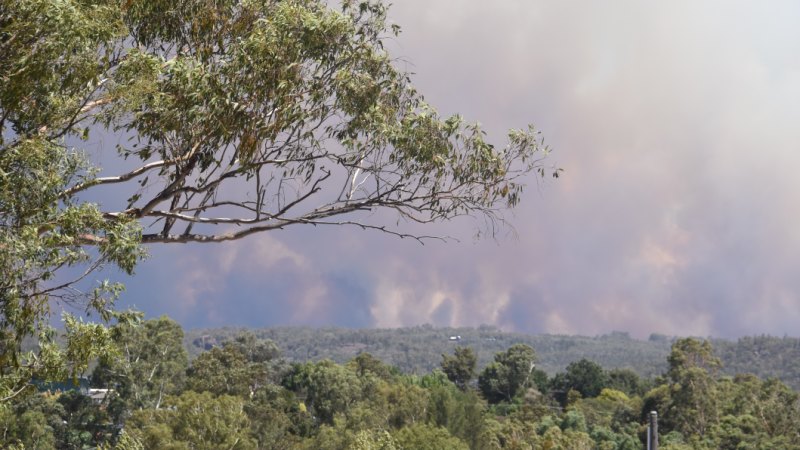 On Tuesday night, people in the area of the settlement were warned by the RFS they «should seek shelter if the fire impacts» and protect themselves from its heat.
While conditions eased overnight for Rural Fire Service crews, allowing them to back-burn on the southern edge of the fire, the blaze continues to burn on multiple fronts.
Easing overnight conditions also helped fire crews working to battle a bushfire in the Tingha Plateau area, near Inverell. While the fire has slowed, it has burnt through more than 5600 hectares of bushland and remains out of control.
RFS crews were working to protect homes as the fire is still burning towards properties at Tingha and Old Mill. An evacuation centre has been set up at Inverell High School, and a number of schools in the area have been closed for Wednesday.
Mr Rogers said fire crews were focused on containing those two major fires on Wednesday.
«Obviously we are working hard,» he said.
Bureau of Meteorology forecaster Katarina Kovacevic said a fire weather warning remains in place for the affected areas, and total fire bans are in place for the far North Coast, New England, northern slopes and north-western regions.
Ms Kovacevic said daytime temperatures in the mid to high 30s in the region and dry winds will make the work of firefighters difficult.
"These fresh and gusty north-westerly winds will line up with hot temperatures and dry conditions … those three things will combine to make for elevated fire dangers and difficult conditions for firefighters today," she said.
The meteorologist said conditions will remain difficult even as a change moves through on Wednesday evening.
Loading
"Later on this evening a trough will move through this area and bring cooler conditions as well as more humid easterly winds to those two fire grounds," Ms Kovacevic said.
"That should help to dampen fire behaviour."
Firefighters will be aided on Thursday by a significant drop in daytime temperatures, with a forecast for daytime highs in the mid-20s.
"It looks like a much cooler day for that region — north-eastern parts of NSW — with easterly winds again bringing in more humidity and once again decreasing fire activity for Thursday more broadly," she said.
At 7am on Wednesday, RFS crews were fighting 43 fires across the state. Nine fires were yet to be contained including a large bushfire north of Tenterfield, which has burnt 600 hectares of bush. The RFS warns a number of isolated properties in the area may come under threat.
Rachel Clun is a journalist at The Sydney Morning Herald.