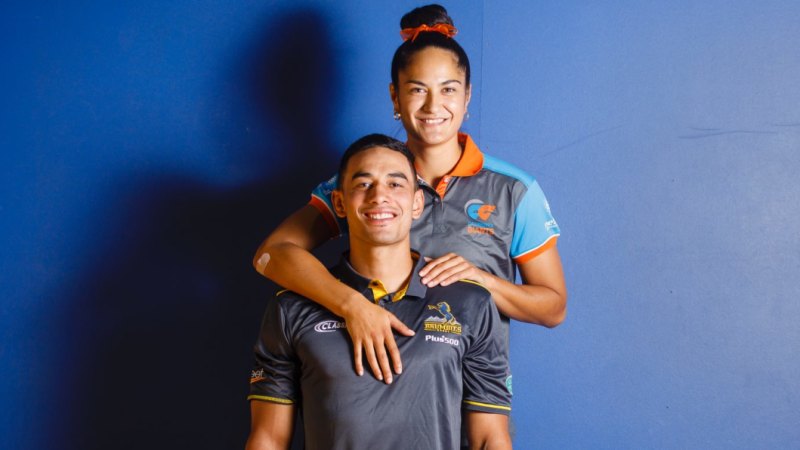 Loading
When the ANL season ended she decided to have a long-awaited crack at rugby and joined the University of Canberra sevens side which plays in a national competition.
Eyles flourished in her first taste of contact sport and after the sevens season she trialled for the Brumbies before cracking her first Super W squad.
But just when she was getting into the 15s format, Japanese club Yokohama sent her a Facebook message requesting her services for their upcoming sevens season.
«I'm so excited to play for the Brumbies, I'm a little bit nervous but glad I could at least one Super W game in before I leave,» Eyles said.
«I've always wanted to give rugby sevens a go throughout my netball career but never had an opportunity. I'd always asked my netball coaches if I could play tournaments but was never allowed.
«After the Canberra Giants season last year there was no contract saying I couldn't play rugby so it was the perfect opportunity. I was lucky enough to play the whole season and I loved it.
«The Japan thing was very unexpected and to play professionally is where you want to be and that's what I'll be doing over there. That's a big achievement in itself and if anything else comes I'll be absolutely stoked, but it's just one step at a time.
«I've fully made the transition to rugby now. It's been an awesome experience playing the Brumbies and I've definitely become a better player in this squad.»
Eyles has asked her fiance for some advice leading into her Brumbies debut and said Hawera is thrilled she's headed to Japan.
Loading
«Faats [Hawera] was absolutely stoked and as shocked as I was, but he was really supportive,» Eyles said.
«The Brumbies are playing the Sunvolves in Japan in three months so I've told him he better get picked that week, no pressure.
«I asked him what it's like playing at Canberra Stadium, we won't get as big a crowd as the men but I've never played in a huge stadium before so I can't wait to know what that feels like; he said it's pretty awesome.»
The Brumbies were beaten by NSW in a trial but Eyles said they've come a long way in the past month and can win on Saturday.
«We've built a lot of confidence since playing Waratahs in the preseason game and become a better team since that game, so we're heading in with a lot of coincidence,» she said.
SUPER RUGBY ROUND TWO
Saturday: ACT Brumbies v NSW Women at 5pm; ACT Brumbies v Waikato Chiefs at 7.45pm. Both games at Canberra Stadium. Tickets available from Ticketek.
Eamonn Tiernan is a sports reporter with The Canberra Times