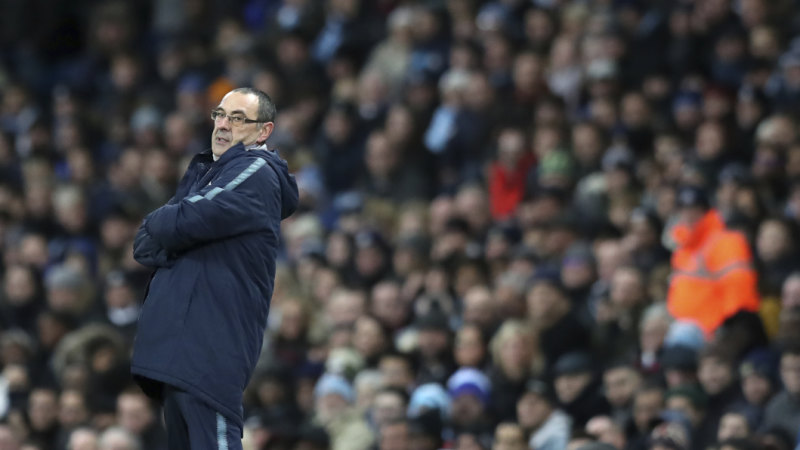 Loading
Sarri has rotated his squad in Europe, with key players Eden Hazard and N'Golo Kante starting only one game each in the group stage. The Italian may review that policy as elimination could effectively seal his exit. Should the rest of the month go badly and Chelsea fail to climb back into the top four of the Premier League, Sarri will almost certainly be sacked, even if the club decide to wait until the summer to bring in a replacement. Gianfranco Zola, assistant manager, would likely be placed in interim charge.
The Telegraph revealed two weeks ago that Sarri's overreliance on midfielder Jorginho and refusal to find a plan B had put his position at risk and the problems are piling up, following away defeats against Arsenal, Bournemouth and City, with 12 goals conceded in total.
Having started so well under Sarri, Chelsea players have become bored by his rigid training methods and overwhelmed by the tactical information he has tried to instill. His preference to start most training sessions at 3pm has also been unpopular with a number of players, who had become used to earlier routines under previous managers. However, the players were called in during the morning on Monday.
Sarri has vowed not to change his methods several times, but he must prove to Roman Abramovich, the Chelsea owner, and the board that he can get through to his squad.
That could be the biggest challenge of all as a Chelsea insider said: «It's clear the players know the power is not with the coach and any fear has been eliminated.
«There's no doubt at City and Liverpool that it is pointless for players to run to their agents if they are not playing, but that's not the case at Chelsea. Antonio Conte tried to change the culture and was sacked.»
Sarri's smoking habit has also been a topic of discussion. Players were initially surprised to see the 60-year-old and his backroom staff smoking and vaping while delivering instructions from the sidelines during training.
Former Chelsea midfielder Frank Lampard has been installed as the bookmakers' favourite to succeed Sarri, but the 40-year-old is concentrating on Derby County's Championship game at Ipswich Town.
Asked about the speculation linking him with a return to Chelsea as manager, Lampard said: «Bookmakers are not always right for starters, so I wouldn't get excited about that. Chelsea are certainly a club I respect, and have a manager I respect. My job is here and I'm working very hard. All my thoughts are on Ipswich. I hope to see Chelsea put some form together and turn their results around.»
On Chelsea's defeat at another one of his old clubs, City, Lampard added: «With my Chelsea hat on, you have a feeling for it and it's not nice. It doesn't happen to Chelsea much, so when it does, it's a shock. But let's not forget they were up against a great Manchester City team — and I also had some good times there as a player.»
Another man linked with the Chelsea post, Laurent Blanc, who was briefly considered last summer, has made it clear he would relish restarting his managerial career in England.
Blanc, the former Manchester United defender, said: «Managing in England is a big ambition. I have big experience at Paris. I want a different challenge in England, Spain or Italy.
«I played in those countries, I know them, so I keep going to games and I see what calls come in.»
The Telegraph, London