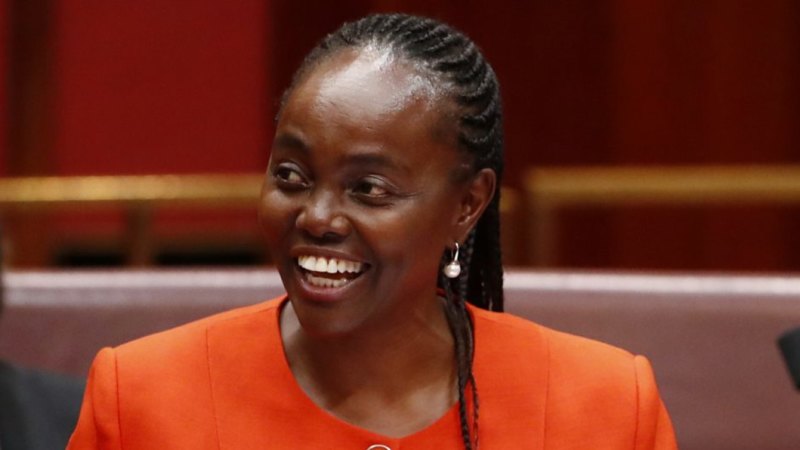 «When I arrived, I found three men already seated and waiting for me,» she writes in the book, Behind the Smile: From the Slopes of Mount Kenya to Commonwealth Parliament of Australia.
«For a split second, I thought, this is how people are murdered and disappear without a trace.»
«The first question I was asked was if I knew who the stranger in the room was.»
«No, I had never seen him. Talk about intimidation.»
The advisers told Gichuhi that Family First would merge with Cory Bernardi's Australian Conservatives, and she was told Senator Bernardi would «call the shots».
«I really felt like a sheep being led to the slaughter house,» the now Liberal senator writes.
«I felt small and crushed, intimidated and humiliated, wondering when this political drama would be over. Is this harassment? Is this bullying? Isn't politics a profession — like any other?»
Gichuhis' new book is a forensic review of her own life, fearlessly recounting infidelity, repeated domestic violence, and financial and emotional abuse. It tracks a life that was controlled by men — control that continued even once she became a lawmaker.
As a 15 year old, Gichuhi says, she witnessed «the horror of domestic violence» when her uncle regularly beat her aunt.
She also talks about the multiple deaths from abuse in her family. Two aunts died due to domestic violence, writes Senator Gichuhi, and her father abused her mother.
When she received poor grades from school later in that year, she says her father abused her as well.
The book also contains a number of accusations against the senator's husband, William Gichuhi.
Reflecting on her life and the process of writing the book, Senator Gichuhi says it was a unique form of torment to be a federal senator but remain a «voiceless wife».
«When we talked about bullying, when we talked about intimidation in Parliament,» she says, «I knew I had a responsibility to tell my story.»
«If I've got to do one thing in this Senate it's give a voice to the voiceless.»
She claims Mr Gichuhi had an affair with her sister for several years, that he withheld her income from her, and that he physically abused her when they arrived in Adelaide in 1999.
«William was trying to hit [our daughter] Agnes and I tried to protect her by standing in between him and Agnes,» Senator Gichuhi writes.
«He became so enraged. William hit me so hard on the face that I fell face-down onto the floor. The kids were were watching, my sister was watching and my face was bleeding as I lay flat on the floor.»
Mr Gichuhi denies the book's accusations against him, saying they are a «litany of spurious lies, allegations and fabrications».
On Monday, after The Australian reported Mr Gichuhi's complaints, Senator Gichuhi signed an affidavit swearing that everything in the book was true to the best of her knowledge.
The senator promises a second book will be a tell-all of her political career, and will finally reveal the details of the bullying and intimidation she says she witnessed during the Liberal Party leadership spill last year.
Loading
Senator Gichuhi also criticised her party's record on women, saying a «womenless» party was «completely not sustainable in 2019».
«It's a political party, it's a representative party — 50-50, that's how a political party should look,» she said.
«Just get women into politics and into Parliament.»
Reflecting on a life across two countries, three different careers and 30 years of a complicated, fraught marriage, Senator Gichuhi writes, «I was just an everyday Australian woman whose life had taken a dramatic turn way beyond my wildest dreams. The issues in my marriage could wait.»
«Writing this book is my way of analysing my life. It's an attempt to ask, 'How did I become a senator?'»
Max is a journalist at The Sydney Morning Herald and The Age.