The proposed new markets would 'reference, not repeat' the past through a high roof and industrial-style beams and trusses.
Council staff have advised councillors to recommend the Metro West Joint Development Assessment Panel approve the proposal subject to numerous conditions, including to provide:
Around 100 bicycle bays for commercial tenants and residents in and next to the building
Bicycle repair station adjacent to the site
Public carpark with electric car charging station
Two car share operator car bays on Roberts Road
Of 530 public submissions the council received on the proposal, there were 457 in support.
"The high volume of public submissions is likely attributable to the site's historic use, its prominence as a gateway to Subiaco, its planning history as well as the exposure the proposal received in both local and state print, television, radio and social media," the officers' report said.
"It is acknowledged that 52 per cent of submissions received were from people who don't live in Subiaco, so it is possible that the interest reflects the importance of the site to not only the local community but more broadly the Perth region."
Councillors will vote in chambers at 5.30pm, then the JDAP will make the decision in coming weeks. Blackburne has previously told WAtoday  they would like to start demolition and construction towards the end of 2019 at the latest.
Interest in planning matters in Subiaco is running high at present; hundreds of people turned out last Thursday for a marathon 6½ hour council meeting that included three hours of public deputations – and reportedly some frayed tempers and dummy-spitting after the clock struck midnight.
At the meeting, councillors voted to adopt a modified version of a new local planning scheme (LPS5). This means council will now not be forced to go with the WA Planning Commission's alternative proposal, which had blanketed Shenton Park and Daglish heritage areas with zoning that would allow multistorey apartments on blocks currently containing quaint old-fashioned workers' cottages.
That decision followed an announcement earlier this month in which the state government released new «concept images» for the high-profile 35.6-hectare Subi East redevelopment area, including the old Princess Margaret Hospital site, Subiaco Oval and surrounds, the new Inner City College at Kitchener Park and West Leederville train station.
The potential for this area to accommodate new high-density housing was a major factor in the preservation of the character areas in Daglish and Shenton Park. The public can submit feedback on the "concept images" until March 1.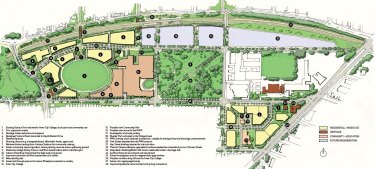 Emma Young covers breaking news with a focus on science and environment, health and social justice for WAtoday.