Network marketing, or multi-level marketing (MLM to those in this burgeoning business), involves buying into a product line and then bringing people into your «network» to sell it. This is called «building a downline», which is precisely what Ms Barrett's friend was doing at the faux-BBQ she hosted.
Loading
Having a downline means you receive a cut of the profits from products sold by your friends, while also making money from the product you sell them to sell on.
Everybody wins, right? Well, not necessarily. Those who have tried it say it can place unintended pressure on friendships, as most people who start turn to friends as potential customers first.
Fiona Elliot, 41, is a part-time teacher who sells skincare products through network marketing. She says she is no stranger to having friends keep their distance from her if they suspect a sale is in the wind.
"I used to sell Tupperware,» says Elliott. «And I mentioned it to a friend, and she just said: 'Oh, no you are not doing that, don't ever speak to me about Tupperware, don't try it.'"
"So I picked that up pretty quickly, and I learnt that a friend is a friend (not necessarily a potential client)."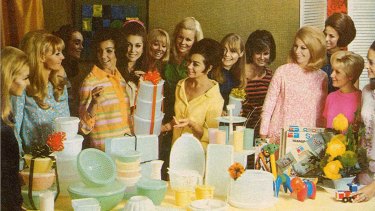 Supercharged by Instagram and Facebook, those whose friends are engaged in multi-level marketing can be flooded with product promotion, as Ms Barrett attests.
"My Instagram feed is full of friends, mostly mums, who have signed up to network marketing, every time I scroll something is being sold – skincare, oils, candles, makeup," she says.
Katherine Temple, Director of Policy and Campaigns for the Consumer Action Law Centre, warns that while MLM's are popular, their over reliance on your close-knit group can spell trouble in the long term.
«They encourage people to leverage their relationships with family and friends; this can have a damaging impact,» she says.
«People will always naturally be attracted to claims they can 'make passive income' or 'work for yourself', but that idea, when pitched by someone they know can be very tempting.»
It's a venture that has worked for Yana Starr, 28, who sells Young Living's Essential Oils on her Instagram page, @thesimplerwayoflife.
"The way I approached it [is] I didn't hit up my friends too much, it was more just me sharing my journey on Instagram and hoping people wanted to hear about it," she says. After purchasing a $259 starter kit and setting up her virtual office, she was in business.
I've been doing it for seven months, and I'm making more than I expected to within the first three years.

Yana Starr
According to Ms Starr, the appeal for her lies in sharing her experience, not just turning a profit.
But isn't flooding your social media simply selling to friends under a different name?
"I don't like to use the term 'selling', it makes it icky,» says Ms Starr.
«Sure, it's selling a product, but I prefer to see it as sharing about my lifestyle.»
She has a network of more than 200 people, meaning her downline is delivering a tidy profit.
"I've been doing it for seven months, and I'm making more than I expected to within the first three years," she says.
For Ms Elliot, the compensation has been more modest.
"I've cut back work one day a week, and we put our daughter in a private school, but anyone with common sense knows we can't all retire off multi-level marketing."
While neither Ms Elliot nor Ms Starr wishes to disclose how much they've earned so far, and it seems even the established network marketing companies are determined to keep expectations in check.
Popular skincare company Rodan + Fields includes a no-nonsense disclaimer on their website: «Rodan + Fields and its affiliates do not guarantee that Rodan + Fields Independent Consultants participating in the business opportunities described on the site will generate any income.»
Despite the chequered past of network marketing (some critics see it as a distant cousin of the pyramid scheme), it seems the selling style can work for some. Others, such as Ms Barrett, see it as a multi-level menace.
"They love to talk about no hidden costs, which is great," she laughs. "But it could cost you a friend because I'll probably skip the next BBQ.»
After continually being told to «use his words» as a young boy, Thomas Mitchell took that advice on board and never looked back. Since then his words appeared all over the place, including in the Sydney Morning Herald, Time Out, The Huffington Post and GQ. A full-time freelancer, Thomas spends his days observing the unique behaviour of the Australian male, while trying not to overstay his welcome at the local cafe.