Loading
The Capitals know success on the court will only come if players are happy off it — and the success did come. Griffin led Canberra to a championship, claiming the league and club's most valuable player awards to boot.
When Rachael Sporn medallist Griffin inspired the Capitals to a drought-breaking championship at a sold-out AIS Arena, the first person she sought in the crowd was her wife.
The pair kissed and embraced to mark the final chapter of a rollercoaster year like no other.
«Getting to share with somebody… That's what makes the moments more special,» Griffin said.
«When I look back at my previous championships with Bendigo, me and Erin were just starting out. It was kind of sharing it, but not so much. This one, we have really been on a journey together to get to this point.
«There's been some big ups and some big downs. Honestly she was more devastated in game two than I was in this series. It shows how invested she is.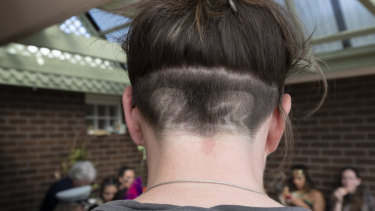 «At the same time, she is the first one to tell me when something happens 'me and the dogs are here for you not matter what'. It's not conditional, it's pretty unconditional or as close as you can get, I'm very fortunate.»
Griffin admits her career would be over if not for a switch of national allegiance to Australia and the world-class training facility in the AIS on her new doorstep.
Loading
The Commonwealth Games gold medallist and three-time WNBL champion was at the point where she could even think about playing basketball following a hamstring repair in 2017.
Six weeks after she sat on her couch following the surgery that has left her with an impressive scar on her leg, Griffin found herself in an Opals camp in the United States.
Erin has been there every step of the way, throughout all the trials and tribulations.
«I'm very lucky to have a wife like her,» Griffin said.
«People probably don't understand all the work she does behind the scenes for me, how well she takes care of me, and how she has to ride this rollercoaster with me.
«People may think it's really nice and exciting all the time and she just gets to be along for this joy ride, but she has to be my rock for an entire season, and I get to be the one all over the place.
«I'm really lucky that she loves me the way she does and supports me the way she does. She has the passion, understands how much it means to me, and at times doesn't take things personally.»
Caden Helmers is a sports reporter for The Canberra Times