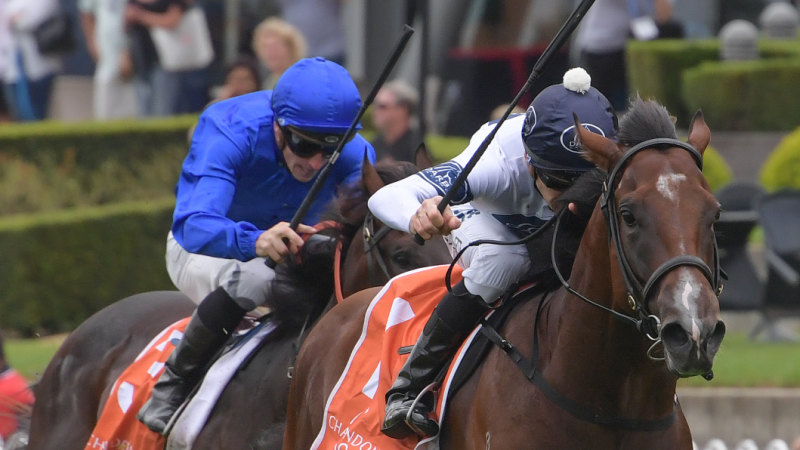 On the line, Time To Reign ($11)  had 2½ lengths on favourite Tassort ($1.85), which had made a long run from   back in the field, with Born A Warrior ($10), which also closed off well,  3¼ lengths away in third.
"They went quick and he was able to to get into a lovely rhythm and breath," Portelli said. "He is much better when he can do that, and you saw what gears he had there.
«There is lot of people with faith and stakes in this horse like Darby and Kitchwin Hills, so it is good to get that win and exciting what is to come."
Syndicator Darby Racing were always going to buy Time For War and it has been an emotional journey with him. He is the first horse that they have owned  whose mother and father carried their colours.
The win made a multi-million dollar  buy-in from Kitchwin Hills for a significant share in the colt look like a good investment.
"He was by Time For War, which we raced and out of Courgette, which is the mum of our Slipper winner, so we weren't going to miss him and went to $320,000," Darby's Mark Holland said. "Because of his breeding, it was very emotional his first win, and then last time was the opposite feeling because we had sold a share to the Kitchwin boys.
"We were totally deflated at Warwick Farm because it was just a let-down, but it just makes this better. It is like She Will Reign. She had that loss before the Slipper."
Time To Reign went from $26 to $11 for the Golden Slipper, but Tassort remains $4.50 favourite after a game chasing effort.
He didn't really like that ground, but he still chased hard.

James McDonald on Tassort.
"He didn't really like that ground, but he still chased hard. The other horse was just harder fit with the run under his belt," Tassort's jockey, James McDonald, said.
"Put us on a dry track and you change the result. I thought it was a great run and he will only get better."
Born A Warrior found the line as well as anything in the race after being slow to begin and copping a check in the straight. Co-trainer Michael Hawkes believes a group 1 is still on the table.
"He will be a lot better for that and everything is still on the table, Slipper or Sires," Hawkes said.
McLaren and Magic Millions $2 million sales topper Faretti both failed to handle the ground and were well beaten.
"He travelled well but as soon as he came off the bit on that ground he was lost," Tim Clark said of Faretti.
Jason Collett had no such concern as he cleared out from his rivals.
"I rode him back in the spring and he gave me a good feel but that was amazing," Collett said. "He is just stronger, and when I asked him to go he just kept going through the gears.
"He is better with something to chase and eventually I think a hood [blinkers] might make him even better."
Racing writer for The Sydney Morning Herald