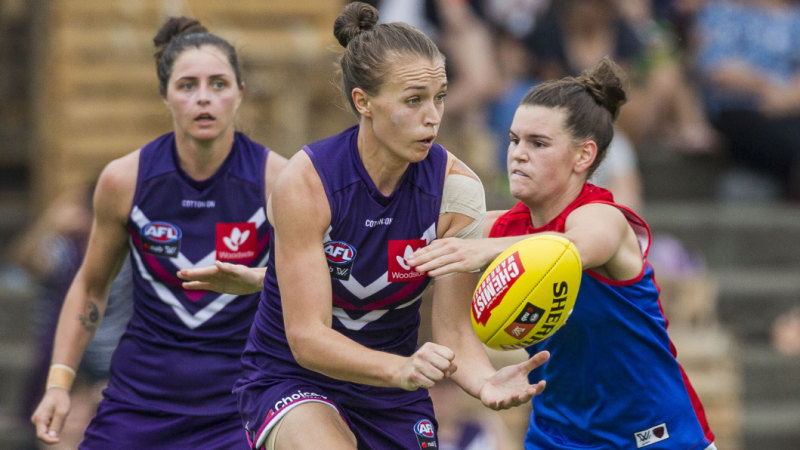 That's why their clash against the seemingly unbeatable North Melbourne at Casey Fields on Sunday is akin to a final in the abbreviated AFLW season where every game counts.
With the battle for a top-two spot in the much stronger conference A red hot, such matches are mini-finals.
«It won't be a weekend to relax that is for sure,» Mithen said.
«We are really excited to have the opportunity to come up against the best in the business at the moment.
«We've already had one loss this season and two [losses] would prove rather costly. There is a fair bit of expectation on this game and it is a crucial one to win.»
Loading
Their travails have created a bond among Mithen's teammates that may be decisive against a team that has only played three matches together.
She said the team had a strong connection both on and off the field.
«Everyone was a bit worried that we would lose Daisy [Pearce] and we wouldn't have much of a midfield but everyone forgot we have Karen Paxman and Elise O'Dea who have been stars of the competition. Lauren Pearce is one of the best ruckman in the competition.»
And, although she doesn't mention it, they have Mithen too.
Her football journey began in Geelong where she dominated playing for Newtown-Chilwell,  won a league best and fairest, somehow finding a pathway to continue her career and make the Demons' list in 2017.
She did not disappoint, finishing fourth in the best and fairest that season and was nominated for the AFLW Rising Star. Her quick hands and willingness to put her head over the ball won her instant respect.
Her subsequent performance playing for Geelong's VFLW team, where she won the best and fairest, showed her class.
But it wasn't as easy as Mithen made it look and even now she remains a work in progress.
«As a talented junior it wasn't super easy to strut into a team and be a really successful player,» Mithen said.
Loading
«It takes some time but it is definitely doable if you are prepared to do the work and put in the hard yards.»
In 2018, she was quieter but her first three games this season put her among the best players in the competition.
«As the years go by, you fix one little bit of your game and then get the opportunity to work on your next bit. It's a process where you are continually try to get better and are evolving as an individual player,» Mithen said.
«This year my footwork, which is kind of interesting because it is not something you would think about that much, has led to a massive improvement in the way I play the game.»
That she is still playing for Melbourne was disappointing to those who hoped she would play with Geelong in the Cats' first season in AFLW.
But Mithen saw the chance to move to Melbourne and, in her words, «get out of that Geelong bubble that I was obviously really comfortable in».
The football-mad town respected her reasons, such is her popularity as one of the pioneers for the game in the region.
Her bubbly personality and down-to-earth nature helps in that department, the hilarious side of her showing through when news filtered to the team in Brisbane that former skipper Daisy Pearce's twins, Roy and Sylvie, had been born.
Mithen and teammate Kate Hore couldn't wait to share their excitement with Pearce so made a call to the hospital and were immediately put through to the new mum.
«Kate and I were screaming 'oh my god, congratulations' and then Daisy responded in a monotone as she was exhausted and we were like 'OK tone it back',» Mithen said.
«It was cool that she answered and we got to chat with her.»
It's a fair bet Pearce will be watching her beloved Demons play North Melbourne on Sunday afternoon (if she gets half a chance amid the likely chaos that accompanies anyone with newborn twins).  And so will all AFLW followers as it promises to be one of the matches of the competition so far.
Melbourne are more equipped to reach the standard being set than they might have been this time two years ago.
«We have come leaps and bounds from where we first started off,» Mithen said.
Peter Ryan is a sports reporter with The Age covering AFL, horse racing and other sports.